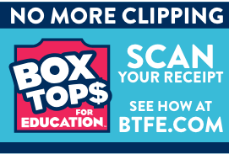 Did you know that our school's lifetime Box Tops earnings is $13,532? The new Box Tops app is easy to use. If you have not signed up for the Box Tops app, give it a try! Once you're signed up, all you have to do is scan your grocery receipt.
Step-by-Step Guide to Box Tops App
Step 1: Download Box Tops for Education App and Log in
Step 2: Find a School (Type in 65075, Select School)
Step 3: Complete Profile (Must be 18 to use)
To Earn Box Tops
Step 1: Click Scan (App will guide you through the steps to scan your receipt)
Step 2: Credit a Class (If you choose to)
- After you scan, click the Credit button
- Type your choice of grade level (K-8)
- Click Done/Submit
As more of our teachers are using Google Classroom as their Learning Management System , we have included some resources that can help both parents and student navigate through Google Classroom when they are at home.